For this week's iNSPIRETEK customer spotlight, we had the pleasure of talking to Brad Kann, the Director of Basketball for North Gold Coast Seahawks.
Brad shared with us how the iNSPIRETEK platform has been utilized by the Seahawks athletes, coaches, support staff and community.
What has the iNSPIRETEK platform meant for your program and community?
Brad: The platform has been invaluable for our program and community as it allows us to bridge the communication and interaction gap between players and the coaching staff. This has allowed our program to become more specifically shaped to our players' physical, mental and emotional requirements on a weekly basis.
What are some of the favourite or most used features for your athletes/coaches?
Brad: In our Seahawks program, we stress for the players to not only be committed to their training loads and commitments, but to their recovery. The tracking of players' sleep and fatigue has allowed us to further assist and educate them to be on top of their physical recovery.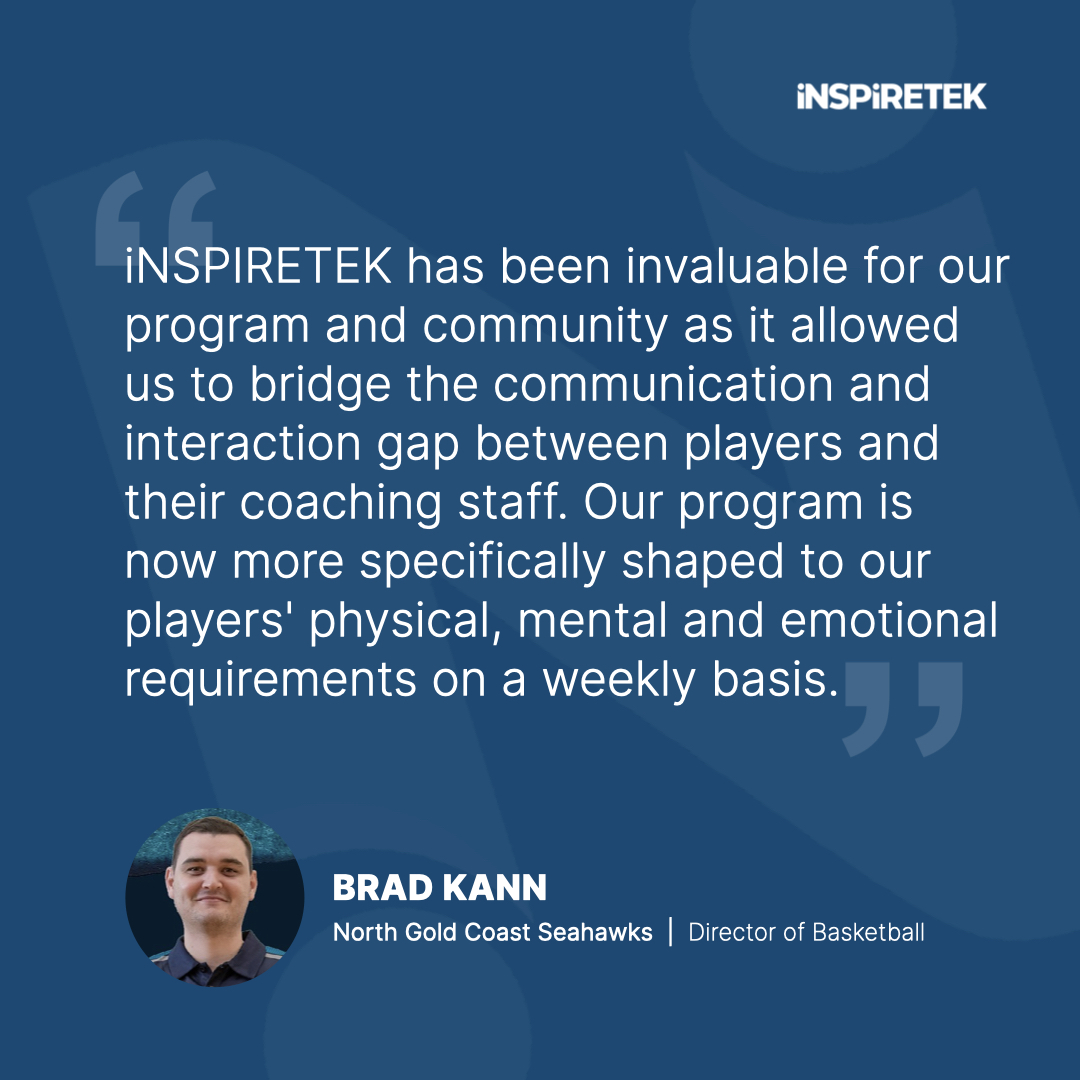 How has the iNSPIRETEK platform impacted the commitment levels and development of players in the program?
Brad: An obvious trend in our program which has become evident, is the higher calibre of player, the higher the commitment to their development they have. We have been able to see this and monitor all of our teams and get some great data and information on what it takes for the elite to be elite. The players who have been the most active in the wellness app have performed the most efficiently and consistently on court so far this season."
What kind of data and information has been gathered to monitor the progress and performance of elite players using the platform?
Brad: The data from the season will be used for the end of season individual feedback meetings where players will either be congratulated on their commitment to their development or challenged to their desire to want to improve. The top players are always wanting to find out how they can further their development and jump others. Our top players have utilised this app to get a distinct advantage on their competition within our club and against their weekly competition.
Anything else you would like to mention about your experience so far?
Brad: The iNSPIRETEK platform has been a game-changer for our program, allowing the coaching staff to better tailor their approach to individual player needs, monitor progress, and provide valuable feedback. The emphasis on tracking sleep and fatigue has helped players optimise their recovery and improve their performance on the court. With the help of iNSPIRETEK, the program has been able to foster a culture of dedication and continuous improvement, empowering players to take control of their development and compete at the highest level.
If you are interested in learning more about iNSPIRETEK and how it can benefit your sports program or community, don't hesitate to contact us. Our team would be happy to answer any questions you may have about our platform. iNSPIRETEK is committed to helping athletes, coaches, and clubs achieve their full potential through advanced wellness management technology.