It is no secret that Japan has made notable progress in the development of technology. The Tokyo Olympic Games will strengthen their reputation. No doubt this will come at a big financial cost! Before the Games were delayed, Tokyo was already projected to be the most expensive Games yet. The postponement now will set back organisers an estimated $19.83 billion. Financial costs include the revolutionary incorporation of upgraded technology through the 'Robot Project' and an exciting new partnership. Read on to see how the organisers are planning on making these Games one to remember.
Robot Project in the Olympic Games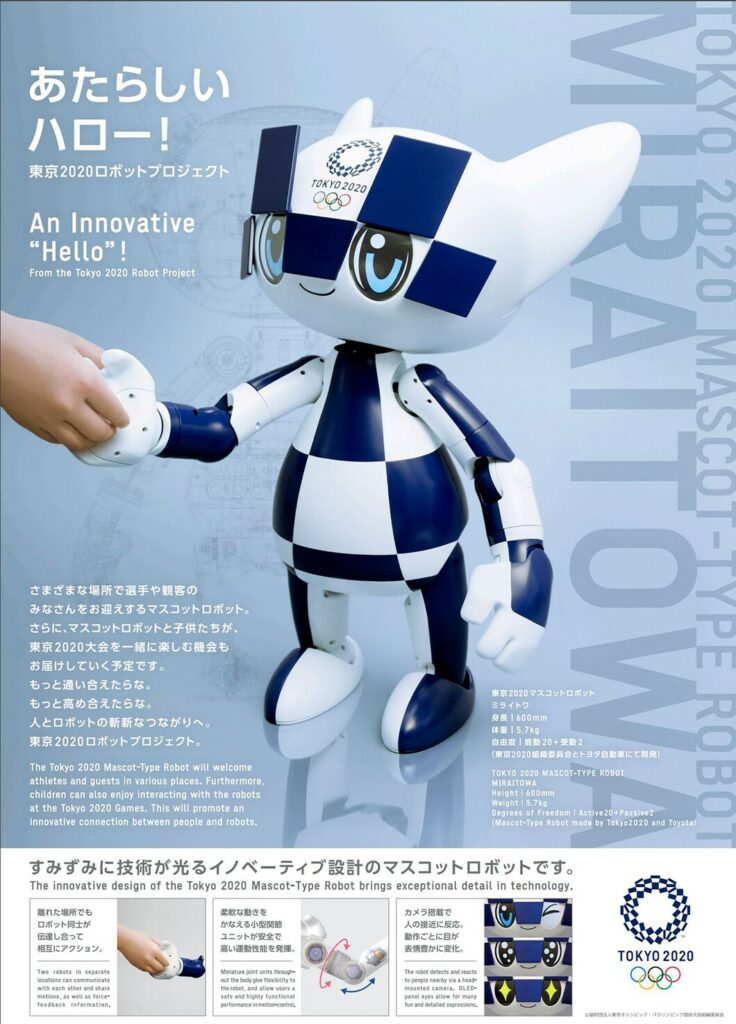 What sets apart these Games from all previous events is the use of robots. These are utilised to provide assistance for spectators during the Games, whilst promoting the widespread use of robots in society. This will be the first Olympics where robots will be regularly used to improve both spectator and athlete experience.
This project includes support for wheelchair users. This will deter any concerns around entering and exiting venues, with the operational support of power-assisted suits. These suits will alleviate the stress and labour of lifting and delivering heavy items.
The Mascot-type robots will also greet and welcome athletes and spectators at venues, with human-like movements. This includes waving, bowing and facial expressions through the use of cameras on the robots' foreheads. Other robots included in the project include the Humanoid Robot, the Remote location communication Robot and a Field Support Robot.
(Source: Tokyo 2020).
Groundbreaking Partnership with Technology Firm
Another way that organisers are leveraging the expectations of such a technologically advanced Games, is through their ground-breaking partnership. In 2019, US multinational tech firm Intel along with Chinese retailer Alibaba, partnered with the Tokyo Olympics, with aspirations to make it the "Most Innovative Games Ever". This partnership aims to improve the overall experience, through technology-driven advancements for athletes, fans, viewers and staff.
3D athlete tracking will be introduced for athletic events to analyse the movement of athletes that will assess the form, motion and biomechanics involved. Broadcasters will have access to these insights to inform viewers from all around the globe.
To help improve security at the games, facial recognition will also be used. The scans will replace traditional ID checks, which will aim to reduce waiting times by 50%. Analytics systems will also be used to help detect behaviours and monitor both crowds and vehicles at events.
More technological advancements will also be brought to life through this partnership. These include VR fan experience, digital twinning of stadiums to allow athletes experience the venues prior to their event and also broadcasting over the cloud.
(Source: NS Business Hub).
Want to see more?
The immersive technology set to be used in the Games is heavily showcased in this video, 'Technology of Tokyo 2020'. This futuristic style Olympics will be one that transcends any previous Olympic Games. Tokyo will set the new standards for all future major sporting events. Incorporating technological advancements will intentionally benefit athletic performance and viewership.
The Games will undoubtedly look different due to the COVID-19 pandemic. Restrictions will limit the numbers of spectators allowed in venues as well as the social distancing measures. Here at iNSPIRETEK we are very excited to see what the organisers will produce under such a stressful and challenging situation.