Inspired by Australian research into the daily routines of high performance athletes, this validated wellbeing assessment tool has been used throughout elite sport for decades
iNSPIRETEK (www.inspiretek.io), a Wellness Management System (WMS) for young people, announced today the launch of the Infinite Score, its evidence-based, daily wellbeing check-in tool. The Infinite Score was inspired by the Hooper Index, a wellbeing assessment tool that has been validated in several journal studies and was first developed by Drs Sue Hooper and Laurel Mackinnon from research involving Queensland's world-class athletes. The Hooper Index has been trusted in sport as a wellbeing and load assessment tool for decades, and iNSPIRETEK is now bringing it to the forefront of its WMS platform experience.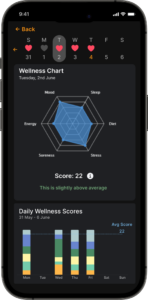 With the Infinite Score, iNSPIRETEK will better help young athletes and sporting organisations to quantify wellbeing in a way that no other athlete management system (AMS) has done to date, based on years of research looking at the link between perceived wellbeing and an athlete's workload to better predict and prevent fatigue, injury, and burnout. "The Infinite Score is simple, reliable and practical for our young athlete users and all customer types in sport, from smaller clubs to national federations and governing bodies," said Rodney Rapson, iNSPIRETEK CEO. "The Hooper Index has tremendous validation and is used all over the sporting world and serves as a great foundation for what we wanted to bring to our platform: an engaging and effective way to check-in on mental health and wellbeing on a daily basis."
iNSPIRETEK athletes and users will be prompted to fill out their Infinite Score questionnaire upon logging into the app each day. There are six pillars to the score: sleep, mood, stress and energy levels, diet and muscle soreness. It is a self-reported data collection tool and puts perceived wellbeing at the center of the iNSPIRETEK experience, adding daily engagement to drive positive behaviour change in the young athletes who use it daily. iNSPIRETEK successfully beta tested the Infinite Score with several clients over the past months, including Basketball Queensland. "It is encouraging to hear from our partners, and most importantly, our users, how valuable the Infinite Score will be for them as a benchmark and daily data point," continued Rapson.
The Hooper Index, first referenced in 1995 in the internationally acclaimed sports science journal Medicine & Science in Sports & Exercise,1 has been proven to increase satisfaction, confidence and motivation of athletes, and to increase their awareness of their own behaviours. "It is very gratifying to see that what we learned from years of close monitoring of Australia's world-class athletes is now widely available in this new technology to better assist users to be aware of, and improve, their daily activities for maximising their wellbeing," said Sue Hooper AM OLY PhD. Dr. Hooper, Olympian, former sport coach, official, educator and health administrator, is still a very active researcher in Brisbane.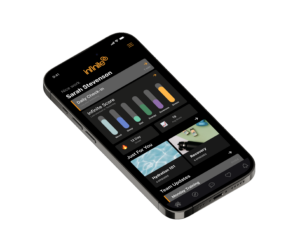 "We are quantifying wellbeing in a way that no other AMS platform has been able to achieve in sport, in an approachable and engaging way. Our mission is to drive positive behaviour change and we think this is a monumental step forward for us as a company and those we serve," concluded Rapson.
Unlike other AMS technologies, iNSPIRETEK's platform puts young people at the center, while offering the communication, content and engagement tools that today's coaches, administrators and organisations require. Through mental health and wellbeing tracking, iNSPIRETEK delivers personalised evidence-based content, education and support for every user.
Click here to read the official press release.