At both a grassroots and a semi/professional level, the past decade has seen a massive change in women's sport in Australia. The establishment of key leagues – WBBL, AFLW and NRLW amongst others, have provided new opportunities, new pathways and new sporting role models for young women across the country. Some of these positive trends include:
-The Australian Open announcing equal billing and prize money for men and women.1
-In 2019, Cricket Australia continuing their goal of pay parity with further increases to the base wages of female players.2
-Large increases in participation for women players across popular codes including NRL and AFL.
-An increase in the profiles of female athletes, leading to an increase in role models across many different codes.
-More players are willing to set positive examples by standing up for their own mental health, such as two-time Opals captain and dual Olympian Jenna O'Hea.
-Almost 8k attendees at this year's NRLW grand final between the Sydney Roosters and St George Illawarra, played as a stand-alone match for the first time ever in the competition's history.
Behind The Curtain
But a large number of concerning issues remain throughout many womens codes and leagues. At a semi/professional level, female athletes face wage disparities, lack of formal mental health and wellbeing programs/support and limited access to medical support. Further to these issues, female athletes experience abuse online through vile social posts and messages focused on body shaming, showcasing a toxic social issue that has no place in sport.
At a grassroots level, barriers exist in the form of participation issues, with recent studies attributing to a decline in participation rates due to social and family influences, lack of inclusivity in male/female sports activities in later teen years a change in motivations, negative body image, as well as a historic lack of prominent role models in women's professional sport.3 By age 14, girls are dropping out of sport at two times the rate of boys, and by age 17, 50% of girls drop out of sport altogether.4,5

Sydney Roosters Partnership
Recently, iNSPIRETEK began working with the Sydney Roosters NRLW team. The 2022 Premiers are at the forefront of athlete well being, thanks to progressive leaders such as Damon Spooner, the clubs Athlete Wellbeing and Education Manager.
"This platform will provide a positive mental health space to help athletes first understand who they are and where they need to be.The app's activity, mood, sleep, fatigue, pain, nutrition tracker is great and will also set them up for life at the top hopefully feeling comfortable first with themselves, who they are and in turn lead to improved sustained performance," said Spooner on the capabilities of iNSPIRETEK's end user app infinite.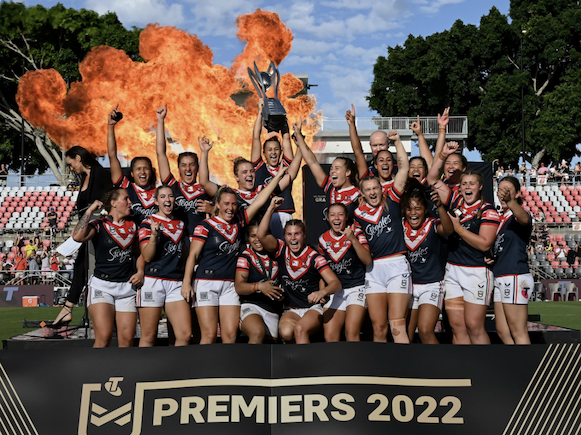 iNSPIRETEK will be working closely with the coaching and support staff along with athletes at both a grassroots and professional level to elevate the standards in athlete mental health and wellbeing. Along with leading wellness tracking and analytic tools, iNSPIRETEK's highly curated educational content found in iNSPIRE HQ is providing athletes with exceptional programs from the likes of LIVIN, Dr Tim Crowe, Dr Michael Duhig and Mental Health Foundation Australia.
iNSPIRETEK's Nikita Porth said that the partnership with the Roosters marks another giant leap forward in terms of athlete mental health and wellbeing in Australia. "We are working with every single part of the Roosters organisation from grassroots, to academy players to the elite players. We are so excited to be working so closely with the team to elevate the entire operation. The impact and value this provides to players, families and the community will be felt for years to come. The mental health crisis is only getting worse, and we need more clubs and leagues across the country to stand up and take action."
A Lifelong Support System
To further support this partnership, Mabel Park SHS is integrating iNSPIRETEK's suite of products into their high performance pathways programs, which includes Rugby, Basketball, Soccer and Netball. The school, which has an Elite Pathways partnership with the Roosters, has already seen two students transition to the club, including Keilee Joseph who was integral to the Roosters 2021 NRLW season.
Through these partnerships, along with many more that will be announced soon, these students and athletes will benefit from a lifelong support system within a community that values the human before the athlete.
A Bright Future
While much work still needs to be done, the barriers, shortcomings and issues facing female athletes are becoming more readily identified and openly discussed. With rise to more sporting opportunities, more sports role models and more support, the future is very bright for women in sport.
1.https://www.theguardian.com/sport/2022/apr/29/australian-open-to-make-golf-history-with-equal-billing-and-prize-money-for-men-and-women
2. https://www.sportspromedia.com/news/cricket-australia-womens-players-pay-increase-wbbl-wncl/
3.https://activeforlife.com/why-girls-quit-sports/
4 https://ministryofsport.com/50-of-australian-teenage-girls-quit-sport-by-17-suncorp-report-reveals/
5. https://thenewdaily.com.au/news/national/2019/05/27/girls-sport-participation-drop/2